If you're looking for a romantic and unforgettable wedding destination, look no further than Lake Como, Italy. This stunning location in northern Italy has long been a favorite of celebrities and jet-setters, thanks to its serene beauty, picturesque towns, and stunning views of the Alps. With its crystal-clear waters and lush green hillsides, Lake Como is the perfect place to celebrate your love and start your new life together.
In this blog, we'll explore everything you need to know to plan your Lake Como wedding, including the best venues, local customs and traditions, and tips for making your day truly unforgettable. Whether you're dreaming of a small, intimate ceremony or a lavish celebration with all the trimmings, Lake Como has everything you need to make your wedding day a fairy tale come true.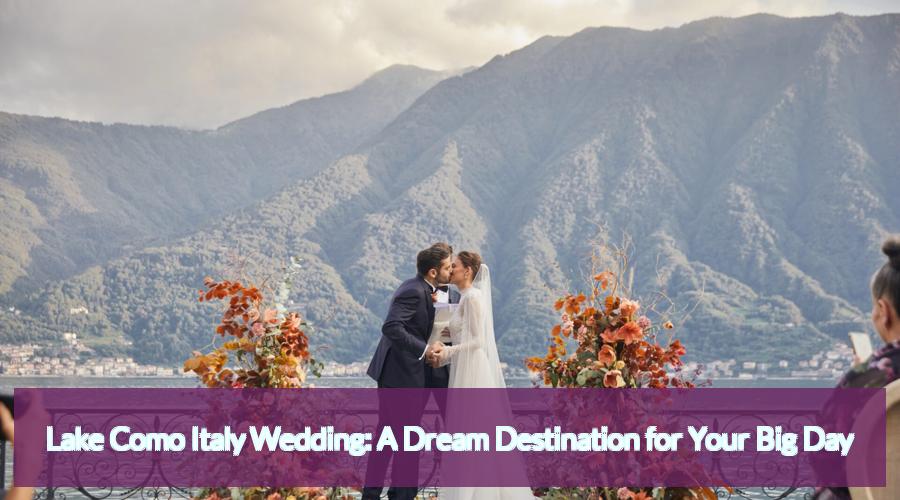 Why Lake Como is the Perfect Destination for Your Italy Wedding?
Lake Como in Italy is one of the most popular destinations for couples looking for a dream wedding location. With its picturesque scenery, luxurious villas, and stunning lakeside views, Lake Como offers a romantic and intimate setting for your special day.
The beautiful Italian town of Lake Como offers a range of options for your wedding ceremony and reception. Whether you are looking for a grand villa or a small, intimate setting, there is something for everyone. The town also has a range of world-class restaurants and catering services to suit any taste.
Lake Como is also an easily accessible location for you and your guests, with multiple international airports nearby. The town is just a short drive from Milan, making it the perfect destination for a weekend wedding celebration. With its beautiful landscapes and luxurious amenities, Lake Como is sure to make your wedding day a truly unforgettable experience.
Lake Como Wedding Venues: The Best Places to Say "I Do"
Lake Como, with its picturesque setting, has become one of the most sought-after wedding destinations in Italy. The breathtaking views of the lake, surrounded by mountains and lush greenery, make it an ideal location for a romantic wedding. Lake Como offers a wide range of venues, from grand villas to intimate gardens, to make your big day unforgettable.
One of the popular wedding venues in Lake Como is Villa del Balbianello, a historic villa that overlooks the lake. This villa offers stunning views of the lake and gardens, making it a popular choice for a fairytale wedding. Another popular venue is Villa d'Este, a luxurious hotel that offers a magnificent view of the lake and the Alps. The hotel's lush gardens and elegant ballroom make it an ideal location for a glamorous wedding.
For those seeking a more intimate setting, Villa Serbelloni is an ideal venue. This 19th-century villa offers a romantic atmosphere with its manicured gardens and serene lake views. With a maximum capacity of 150 guests, it is perfect for an intimate wedding celebration. Whether you're planning a grand or an intimate wedding, Lake Como offers a variety of wedding venues to make your big day unforgettable.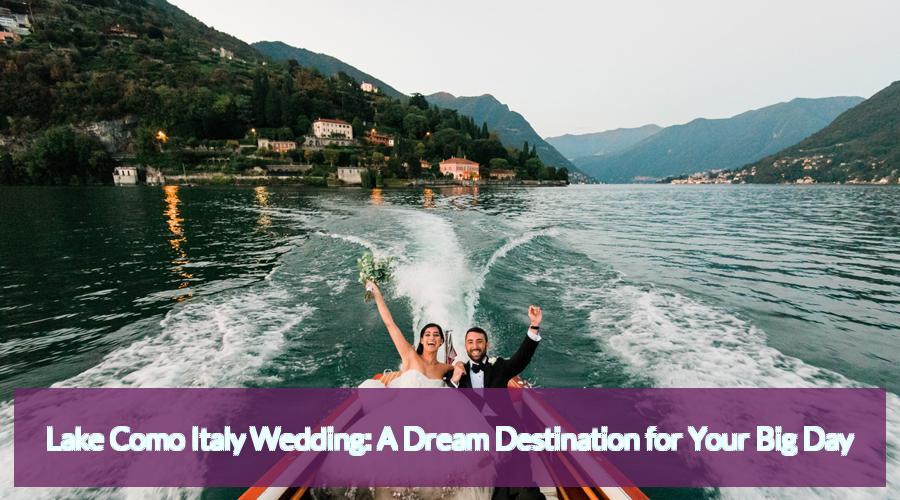 The Most Popular Times of Year for a Lake Como Wedding
Spring and early summer are popular times for Lake Como weddings because the weather is mild and pleasant, with temperatures averaging in the low to mid 20s Celsius (high 60s to low 70s Fahrenheit). The gardens and flowers around the lake are also in full bloom, providing a beautiful backdrop for your wedding photos.
Early fall is another popular time for Lake Como weddings, as the weather is still warm but not too hot, with temperatures averaging in the high teens to low 20s Celsius (mid 60s to low 70s Fahrenheit). The fall foliage around the lake is also stunning, with vibrant red and orange leaves adding to the natural beauty of the area.
Keep in mind that peak wedding season in Lake Como can mean higher prices and more competition for venues and vendors. If you're looking to save money or avoid the crowds, consider having your wedding during the off-season months of November to March. While the weather may be colder and some venues may be closed, you can still have a beautiful and intimate wedding on Lake Como.
How to Plan a Lake Como Wedding: A Step-by-Step Guide
Planning a wedding is an exciting but challenging task, especially when it's a destination wedding. If you have chosen Lake Como, Italy, as your wedding destination, you're in for a treat. Lake Como is a breathtakingly beautiful place, and it's no surprise that it's a popular wedding destination. Here is a step-by-step guide to help you plan your dream Lake Como wedding.
Set a budget: The first step in planning any wedding is to set a budget. Determine how much you are willing to spend on your wedding and stick to it. Lake Como has a wide range of wedding venues and vendors, so you'll be able to find something that fits your budget.
Choose a date: The next step is to choose a date for your wedding. Keep in mind that Lake Como is a popular destination, so it's best to book your wedding venue and vendors well in advance. Consider the weather, as well as the availability of your guests, when selecting your wedding date.
Find a wedding planner: Unless you're a seasoned event planner, you'll want to hire a local wedding planner to help you navigate the logistics of your Lake Como wedding. They will help you find the perfect wedding venue, select vendors, and coordinate all the details leading up to and on the day of your wedding.

Choosing the Right Wedding Vendors for Your Lake Como Wedding
Planning a wedding in a foreign country like Italy can be a daunting task, especially when you're not familiar with the local wedding vendors. When it comes to your Lake Como wedding, it's essential to choose the right vendors who can bring your vision to life. Whether you're looking for a florist, a caterer, a photographer, or a wedding planner, there are plenty of options available to you.
One of the best ways to find reliable wedding vendors for your Lake Como wedding is to ask for referrals from other couples who have already gotten married in the area. You can also research online to find reviews from past clients and check out the vendor's portfolio to ensure that their style aligns with your vision.
When selecting vendors for your Lake Como wedding, make sure to consider their level of experience and expertise. A vendor who has worked on weddings in Lake Como before will have a better understanding of the local wedding industry, venues, and vendors. It's also crucial to ensure that they have the necessary permits and licenses required to work in the area.
Top Things to Do and See During Your Lake Como Weekend
Lake Como is a destination that offers not only a picturesque wedding backdrop but also plenty of activities for couples and their guests to enjoy during their stay. Take a boat ride on the lake and take in the stunning scenery or visit the charming towns dotted around the shore. Bellagio, Varenna, and Menaggio are all popular spots to explore.
For those who want to soak up some culture, Lake Como has several historic villas and gardens to visit, such as Villa Carlotta and Villa del Balbianello. Foodies will love the local cuisine, which features fresh seafood, pasta, and risotto, as well as the opportunity to sample some of the region's famous wines.
Outdoor enthusiasts will also find plenty to keep them entertained. Hiking trails wind through the surrounding hills, offering breathtaking views of the lake, while cycling and mountain biking are popular activities. For a more relaxed pace, there are also several golf courses in the area, as well as opportunities for fishing and horseback riding.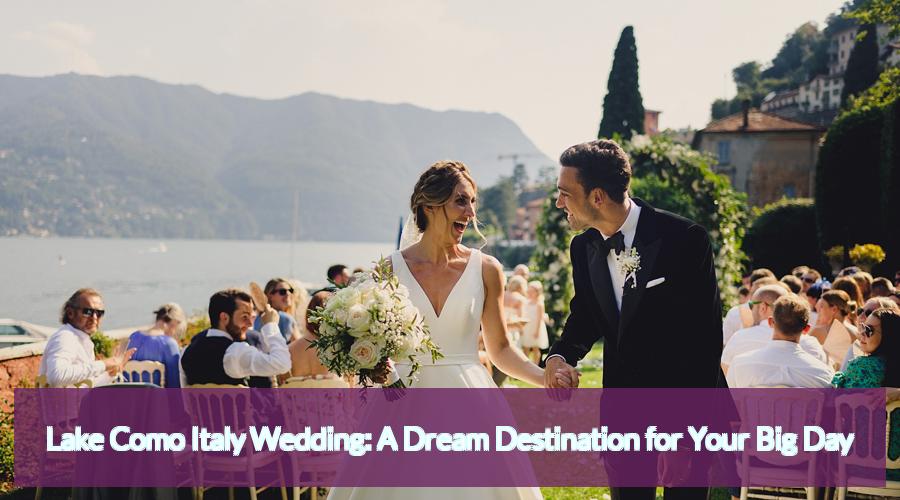 Lake Como Wedding Traditions: Incorporating Italian Culture into Your Ceremony
One of the most well-known Italian wedding traditions is the use of confetti, which are small paper or sugared almonds that are thrown over the newlyweds as they exit the ceremony. In Lake Como, you can incorporate this tradition by providing small sachets of confetti for your guests to toss as you leave the venue. Another tradition is the use of wedding favors, which are small gifts given to guests as a way of saying thank you for attending. Consider gifting your guests with traditional Italian sweets, such as cannoli or biscotti.
Italy is known for its delicious cuisine, and Lake Como is no exception. Incorporating Italian food into your wedding reception is a great way to add a touch of local flavor to your big day. Some popular dishes to consider include risotto alla Milanese, a saffron-infused risotto dish, and osso buco, a slow-cooked veal dish. Be sure to work with your caterer to create a menu that showcases the best of Italian cuisine.
Finally, when it comes to attire, Italian weddings tend to be more formal affairs. Women typically wear long dresses, and men wear dark suits or tuxedos. To incorporate this tradition into your Lake Como wedding, consider a black-tie dress code for your guests. This will not only add to the elegance of the event but will also make for some stunning photos against the backdrop of Lake Como.
Lake Como Wedding Costs: What to Expect and How to Budget
A wedding at Lake Como, Italy is a dream for many couples, but it can also come with a hefty price tag. The cost of a Lake Como wedding can vary greatly depending on factors such as the venue, time of year, and the number of guests. However, with careful planning and budgeting, it is possible to have a stunning wedding without breaking the bank.
One of the biggest expenses for a Lake Como wedding is the venue. Prices can range from a few thousand euros to tens of thousands depending on the location, services offered, and exclusivity of the venue. Couples should research various venues and their offerings to find the best option that fits within their budget. Additionally, couples should consider off-peak wedding seasons, as venues often offer discounts during these times.
Couples should also factor in the cost of vendors such as photographers, caterers, and musicians. It is important to research and compare prices to ensure you are getting the best value for your money. Consider hiring local vendors who are familiar with the area and can provide unique insights and services. Couples should also set aside a contingency fund for any unexpected expenses that may arise during the planning process. With a clear budget in mind, couples can plan their dream wedding at Lake Como without compromising on quality.
What is the average cost of a wedding in Lake Como?
The average cost of a wedding in Lake Como varies depending on the size of the event, venue, and other factors, but it can range from €20,000 to €100,000 or more.
Can I get married at Lake Como?
Yes, you can get married at Lake Como. It is a popular wedding destination in Italy, with many beautiful venues and locations available for ceremonies and receptions.
What is the best time of year to get married in Lake Como?
The best time of year to get married in Lake Como is during the spring and fall months, when the weather is mild and the crowds are smaller. However, summer is also a popular time for weddings despite the higher temperatures and larger crowds. It is recommended to book your venue and vendors well in advance, regardless of the time of year you choose.